Development of a "6P (poles) SIM Card Connector (Side-Insertion Type)" with Unique Side-Insertion Structure
2010/9/14 10:51:44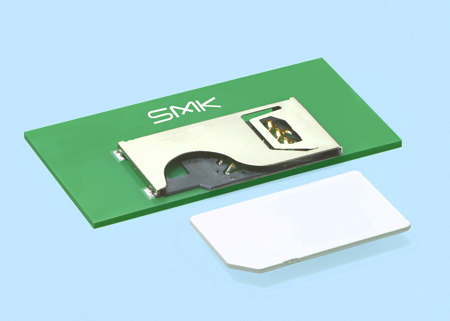 Development of a "6P (poles) SIM Card Connector (Side-Insertion Type)" with Unique Side-Insertion Structure


We are pleased to announce that we have developed the industry's first side-insertion type connector for SIM cards.
By using our unique side-insertion structure for card insertion/extraction, this new product enables connectors to be located more freely in sets. Further, due to its unique contact configuration, it has a failsafe structure that prevents contact buckling when cards are inserted diagonally from any direction. This responds to consumers' needs to insert and extract SIM cards reliably and safely.
Using a structure that fully holds cards with a shield cover, shielding performance is enhanced by grounding the cover, ensuing high contact reliability. Connector strength is also enhanced due to integral molding of the contacts and housing. Its mounting height of 1.45mm and low-profile design has been achieved to respond to needs for the increased smallness and thinness of sets.
This product can also be used for USIM (UIM) cards.
Note: SIM: Subscriber Identity Module
   USIM: Universal Subscriber Identity Module
   UIM: User Identity Module
   GSM: Global System for Mobile Communications